---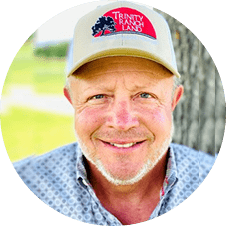 Jim Baker
REALTOR
Jim Baker is committed to listening to all his client's needs and utilizing his keen negotiating skills he developed in the western industry for 20 years to represent Trinity Ranch Land in selling ranches and homes. He also served 10 years as the City Administrator of Cisco, where he had the opportunity to gain invaluable knowledge of the West Texas area that will contribute to his success as your Realtor.
Jim graduated from Texas A&M with a Bachelor of Science degree in Agriculture Economics. Jim lives with his wife Debbie on a farm west of Cisco and raises cattle and horses. Jim has a servant's heart and is always looking for an opportunity to lend a helping hand.
Jim's first priority as a Realtor is to work hard for his client's happiness. He is communicative and is dedicated to building relationships so that every transaction in the buying or selling process is fun, easy, and stress-free. Jim is proud to be a part of the Trinity Ranch Land Team.
160+/- Acres, Eastland Co Eastland TX Eastland Cisco Texas farmshunting landranchesrecreational landundeveloped land

1125000

160+/- acres, eastland co

Acres:

160 ±

County:

Eastland

City/St:

Cisco, TX

160

1672361720

1661290806

0

Status:

Available

Price:

$1,125,000

farms huntingland ranches recreationalland undevelopedland

FarmsHunting LandRanchesRecreational LandUndeveloped Land

70+/- Acres, Eastland County Eastland TX Eastland Cisco Texas hunting landrecreational landundeveloped landhorse property

437500

70+/- acres, eastland county

Acres:

70 ±

County:

Eastland

City/St:

Cisco, TX

70

1674492501

1668029053

0

Status:

Available

Price:

$437,500

huntingland recreationalland undevelopedland horseproperty

Hunting LandRecreational LandUndeveloped LandHorse Property