---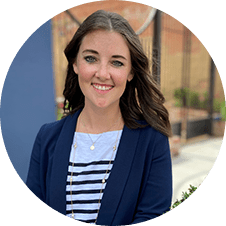 Amanda Dunaway
REALTOR
Amanda Dunaway is Texas born and raised. She was born in East Texas, raised in West Texas, and has lived in Central and North Texas. She has a bachelor's degree from Baylor University and a master's degree from the University of Mary Hardin-Baylor. Both her mother and grandfather are Realtors, her mother being the owner/broker of Trinity Ranch Land and her grandfather joining just a few short years ago. Both inspired her to get her real estate license.
You may find Amanda enjoying college football games, basketball games or working on a home improvement project. She is an avid reader and is active in her church community. She also spends abundant time in outdoor activities and adventures from snow skiing to kayaking.
Amanda currently lives in the Fort Worth area and is excited to extend Trinity's coverage of Texas real estate to Granbury, Weatherford, DFW, and the surrounding areas. She is ready to show you your new home or reno project! Give her a call or text today 325-280-4807.
11.5+/- Acres, Eastland County Eastland TX Eastland Cisco Texas hunting landrecreational landundeveloped land

64400

11.5+/- acres, eastland county

Acres:

11.5 ±

County:

Eastland

City/St:

Cisco, TX

11.5

1685668451

1682105873

0

Status:

Available

Price:

$64,400

11+/- Acres, Eastland County Eastland TX Eastland Cisco Texas hunting landrecreational landundeveloped land

60500

11+/- acres, eastland county

Acres:

11 ±

County:

Eastland

City/St:

Cisco, TX

11

1685668469

1682105195

0

Status:

Available

Price:

$60,500

200 E College St, Rising Star Eastland TX Eastland Rising Star Texas commercial

240000

200 e college st, rising star

Acres:

0.74 ±

County:

Eastland

City/St:

Rising Star, TX

0.744

1683139408

1672862361

0

Status:

Available

Price:

$240,000

22+/- Acres, Eastland County Eastland TX Eastland Cisco Texas hunting landrecreational landundeveloped land

118800

22+/- acres, eastland county

Acres:

22 ±

County:

Eastland

City/St:

Cisco, TX

22

1685668425

1682107169

0

Status:

Available

Price:

$118,800

Acres:

225 ±

County:

Comanche

City/St:

May, TX

225

1684260725

1660853189

0

Status:

Available

Price:

$1,170,000

29 Acres, Callahan County Callahan TX Callahan Cross Plains Texas hunting landranchesrecreational land

156600

29 acres, callahan county

Acres:

29 ±

County:

Callahan

City/St:

Cross Plains, TX

29

1683847576

1666296426

0

Status:

Available

Price:

$156,600

huntingland ranches recreationalland

Hunting LandRanchesRecreational Land

30+/- Acres, Callahan County Callahan TX Callahan Cross Plains Texas hunting landrecreational land

177000

30+/- acres, callahan county

Acres:

30 ±

County:

Callahan

City/St:

Cross Plains, TX

30

1683847595

1666295904

0

Status:

Available

Price:

$177,000

huntingland recreationalland

Hunting LandRecreational Land

306 Conrad Hilton Blvd, Cisco Eastland TX Eastland Cisco Texas residential propertycommercialsingle familybusiness opportunity

288000

306 conrad hilton blvd, cisco

Acres:

0.07 ±

County:

Eastland

City/St:

Cisco, TX

0.072

1677877804

1666120990

0

Status:

Available

Price:

$288,000

residentialproperty commercial singlefamily businessopportunity

Residential PropertyCommercialSingle FamilyBusiness Opportunity

34.5+/- Ac TBD CR 250, Callahan County Callahan TX Callahan Clyde Texas hunting landrecreational land

170000

34.5+/- ac tbd cr 250, callahan county

Acres:

34.5 ±

County:

Callahan

City/St:

Clyde, TX

34.5

1685666666

1681749884

0

Status:

Available

Price:

$170,000

huntingland recreationalland

Hunting LandRecreational Land

43.366 Ac & Hm 338 FM 1713, Whitney Hill TX Hill Whitney Texas hunting landranchessingle family

749500

43.366 ac & hm 338 fm 1713, whitney

Acres:

43.37 ±

County:

Hill

City/St:

Whitney, TX

43.366

1685717112

1671568936

0

Status:

New Listing

Price:

$749,500

huntingland ranches singlefamily

Hunting LandRanchesSingle Family

53.28+/- Ac & Hm, Jones County Jones TX Jones Merkel Texas hunting landrecreational landundeveloped landhorse property

525000

53.28+/- ac & hm, jones county

Acres:

53.28 ±

County:

Jones

City/St:

Merkel, TX

53.28

1684260770

1683298996

0

Status:

Available

Price:

$525,000

huntingland recreationalland undevelopedland horseproperty

Hunting LandRecreational LandUndeveloped LandHorse Property

5321 Big Bend Drive Tarrant TX Tarrant Fort Worth Texas residential property

439900

5321 big bend drive

Acres:

0.17 ±

County:

Tarrant

City/St:

Fort Worth, TX

0.173

1685130303

1685129938

0

Status:

Available

Price:

$439,900

residentialproperty

Residential Property

59+/- Acres, Callahan County Callahan TX Callahan Cross Plains Texas hunting landrecreational landundeveloped landhorse property

294705

59+/- acres, callahan county

Acres:

59 ±

County:

Callahan

City/St:

Cross Plains, TX

59

1683304712

1678385523

0

Status:

Available

Price:

$294,705

huntingland recreationalland undevelopedland horseproperty

Hunting LandRecreational LandUndeveloped LandHorse Property

6.33 Ac & Hm 12175 Private Rd 6054, Hawley Jones TX Jones Hawley Texas ranchesresidential propertysingle family

339000

6.33 ac & hm 12175 private rd 6054, hawley

Acres:

6.33 ±

County:

Jones

City/St:

Hawley, TX

6.33

1686164215

1685993568

0

Status:

New Listing

Price:

$339,000

ranches residentialproperty singlefamily

RanchesResidential PropertySingle Family

70+/- Acres, Eastland County Eastland TX Eastland Cisco Texas hunting landrecreational landundeveloped landhorse property

437500

70+/- acres, eastland county

Acres:

70 ±

County:

Eastland

City/St:

Cisco, TX

70

1686157504

1668029053

0

Status:

Available

Price:

$437,500

huntingland recreationalland undevelopedland horseproperty

Hunting LandRecreational LandUndeveloped LandHorse Property

8.35 Ac CR 252 Rising Star Eastland TX Eastland Rising Star Texas undeveloped land

85000

8.35 ac cr 252 rising star

Acres:

8.35 ±

County:

Eastland

City/St:

Rising Star, TX

8.35

1685663671

1670278219

0

Status:

Available

Price:

$85,000

10+/- Acres & Double Wide, Coleman County Coleman TX Coleman Cross Plains Texas hunting landrecreational landresidential propertysingle family

215000

10+/- acres & double wide, coleman county

Acres:

10 ±

County:

Coleman

City/St:

Cross Plains, TX

10

1686159063

1672854506

0

Status:

Available

Price:

$215,000

huntingland recreationalland residentialproperty singlefamily

Hunting LandRecreational LandResidential PropertySingle Family

110+/- Acres, Eastland County Eastland TX Eastland Rising Star Texas hunting landranchesrecreational landundeveloped land

473000

110+/- acres, eastland county

Acres:

110 ±

County:

Eastland

City/St:

Rising Star, TX

110

1679671748

1655155827

0

Status:

Available

Price:

$473,000

huntingland ranches recreationalland undevelopedland

Hunting LandRanchesRecreational LandUndeveloped Land

117+/- Acres, Eastland County Eastland TX Eastland Rising Star Texas hunting landranchesrecreational landundeveloped land

642915

117+/- acres, eastland county

Acres:

117 ±

County:

Eastland

City/St:

Rising Star, TX

117

1679671748

1655155185

0

Status:

Available

Price:

$642,915

huntingland ranches recreationalland undevelopedland

Hunting LandRanchesRecreational LandUndeveloped Land

172+/- Acres, Eastland County Eastland TX Eastland Rising Star Texas hunting landrecreational landundeveloped land

1135200

172+/- acres, eastland county

Acres:

172 ±

County:

Eastland

City/St:

Rising Star, TX

172

1679671748

1655151741

0

Status:

Available

Price:

$1,135,200

20+/-Ac FM 569 Rising Star Eastland TX Eastland Rising Star Texas hunting landranchesrecreational landundeveloped land

134000

20+/-ac fm 569 rising star

Acres:

20 ±

County:

Eastland

City/St:

Rising Star, TX

20

1679666848

1655215540

0

Status:

Available

Price:

$134,000

huntingland ranches recreationalland undevelopedland

Hunting LandRanchesRecreational LandUndeveloped Land

27.57+- Acres 355 Bison Rd Concho TX Concho Eden Texas undeveloped land

130000

27.57+- acres 355 bison rd

Acres:

27.57 ±

County:

Concho

City/St:

Eden, TX

27.57

1680889550

1665154779

0

Status:

New Listing

Price:

$130,000

undevelopedland

Undeveloped Land

27+/- Acres, Eastland County Eastland TX Eastland Rising Star Texas hunting landranchesrecreational landundeveloped land

186300

27+/- acres, eastland county

Acres:

27 ±

County:

Eastland

City/St:

Rising Star, TX

27

1679668506

1655157738

0

Status:

Available

Price:

$186,300

huntingland ranches recreationalland undevelopedland

Hunting LandRanchesRecreational LandUndeveloped Land

33.33+/- Acres & Home, Brown County Brown TX Brown Cross Plains Texas farmshunting landrecreational landresidential propertyhorse propertysingle family

499900

33.33+/- acres & home, brown county

Acres:

33.33 ±

County:

Brown

City/St:

Cross Plains, TX

33.33

1686156604

1679503482

0

Status:

Available

Price:

$499,900

farms huntingland recreationalland residentialproperty horseproperty singlefamily

FarmsHunting LandRecreational LandResidential PropertyHorse PropertySingle Family

33.72+- Acres, Concho County Concho TX Concho Eden Texas hunting landundeveloped land

140000

33.72+- acres, concho county

Acres:

33.72 ±

County:

Concho

City/St:

Eden, TX

33.72

1681952380

1665157255

0

Status:

Available

Price:

$140,000

huntingland undevelopedland

Hunting LandUndeveloped Land

35+/- Acres, Eastland County Eastland TX Eastland Rising Star Texas hunting landranchesrecreational landundeveloped land

252000

35+/- acres, eastland county

Acres:

35 ±

County:

Eastland

City/St:

Rising Star, TX

35

1679668506

1655157185

0

Status:

Available

Price:

$252,000

huntingland ranches recreationalland undevelopedland

Hunting LandRanchesRecreational LandUndeveloped Land

40+/- Acres, Eastland County Eastland TX Eastland Rising Star Texas hunting landranchesrecreational landundeveloped land

284000

40+/- acres, eastland county

Acres:

40 ±

County:

Eastland

City/St:

Rising Star, TX

40

1679668506

1655156662

0

Status:

Available

Price:

$284,000

huntingland ranches recreationalland undevelopedland

Hunting LandRanchesRecreational LandUndeveloped Land

600+/- Acres, Eastland County Eastland TX Eastland Rising Star Texas farmshunting landranchesrecreational landundeveloped landhorse property

2250000

600+/- acres, eastland county

Acres:

600 ±

County:

Eastland

City/St:

Rising Star, TX

600

1680430255

1680032905

0

Status:

Available

Price:

$2,250,000

farms huntingland ranches recreationalland undevelopedland horseproperty

FarmsHunting LandRanchesRecreational LandUndeveloped LandHorse Property

68+/- Acres, Eastland County Eastland TX Eastland Rising Star Texas hunting landranchesrecreational landundeveloped land

278800

68+/- acres, eastland county

Acres:

68 ±

County:

Eastland

City/St:

Rising Star, TX

68

1679671748

1655156243

0

Status:

Available

Price:

$278,800

huntingland ranches recreationalland undevelopedland

Hunting LandRanchesRecreational LandUndeveloped Land

0 CR 313, Breckenridge Stephens TX Stephens Breckenridge Texas residential propertylakefrontsingle family

115000

0 cr 313, breckenridge

Acres:

0.5 ±

County:

Stephens

City/St:

Breckenridge, TX

0.504

1681497898

1681494587

0

Status:

New Listing

Price:

$115,000

residentialproperty lakefront singlefamily

Residential PropertyLakefrontSingle Family

10.02 Ac, Anderson Rd, Wingate (Tract 10) Taylor TX Taylor Wingate Texas farmshunting landranchesundeveloped land

49900

10.02 ac, anderson rd, wingate (tract 10)

Acres:

10.02 ±

County:

Taylor

City/St:

Wingate, TX

10.02

1682538742

1681424535

0

Status:

Available

Price:

$49,900

farms huntingland ranches undevelopedland

FarmsHunting LandRanchesUndeveloped Land

10.02 Ac, Anderson Rd, Wingate (Tract 3) Taylor TX Taylor Wingate Texas hunting landranchesundeveloped land

49900

10.02 ac, anderson rd, wingate (tract 3)

Acres:

10.02 ±

County:

Taylor

City/St:

Wingate, TX

10.02

1682538726

1681421472

0

Status:

Available

Price:

$49,900

10.69 Ac Private Rd 3390, Abilene (Tract 5) Jones TX Jones Abilene Texas hunting landranches

90865

10.69 ac private rd 3390, abilene (tract 5)

Acres:

10.69 ±

County:

Jones

City/St:

Abilene, TX

10.69

1675402479

1664986230

0

Status:

New Listing

Price:

$90,865

huntingland ranches

Hunting LandRanches

11.20 Ac Private Rd 3390, Abilene (Tract 10) Jones TX Jones Abilene Texas rancheslot

95200

11.20 ac private rd 3390, abilene (tract 10)

Acres:

11.2 ±

County:

Jones

City/St:

Abilene, TX

11.2

1675402567

1666370771

0

Status:

New Listing

Price:

$95,200

12.504 Ac Anderson Rd, Wingate (Tract 14) Taylor TX Taylor Wingate Texas hunting landundeveloped land

74900

12.504 ac anderson rd, wingate (tract 14)

Acres:

12.5 ±

County:

Taylor

City/St:

Wingate, TX

12.504

1682538755

1681483119

0

Status:

Available

Price:

$74,900

huntingland undevelopedland

Hunting LandUndeveloped Land

Acres:

1.5 ±

County:

Jones

City/St:

Hawley, TX

1.5

1683669160

1663277145

0

Status:

Available

Price:

$350,000

17+/- Ac (North) Pvt Rd TBD, Abilene (Tract 7) Jones TX Jones Abilene Texas hunting landranchesundeveloped landlot

127500

17+/- ac (north) pvt rd tbd, abilene (tract 7)

Acres:

17 ±

County:

Jones

City/St:

Abilene, TX

17

1675276203

1645823305

0

Status:

New Listing

Price:

$127,500

17+/- Ac (South) Pvt Rd TBD, Abilene (Tract 8) Jones TX Jones Abilene Texas hunting landranchesundeveloped landlot

127500

17+/- ac (south) pvt rd tbd, abilene (tract 8)

Acres:

17 ±

County:

Jones

City/St:

Abilene, TX

17

1675278364

1645825151

0

Status:

New Listing

Price:

$127,500

18+/- Ac Pvt Rd TBD, Abilene (Tract 5) Jones TX Jones Abilene Texas hunting landranchesundeveloped landlot

153000

18+/- ac pvt rd tbd, abilene (tract 5)

Acres:

18 ±

County:

Jones

City/St:

Abilene, TX

18

1677088025

1635968532

0

Status:

New Listing

Price:

$153,000

19.5+- Ac Pvt Rd TBD, Abilene (Tract 9) Jones TX Jones Abilene Texas hunting landranchesundeveloped landlot

165750

19.5+- ac pvt rd tbd, abilene (tract 9)

Acres:

19.5 ±

County:

Jones

City/St:

Abilene, TX

19.5

1677088102

1635971548

0

Status:

Available

Price:

$165,750

22+/- Ac Pvt Rd TBD, Abilene (Tract 13) Jones TX Jones Abilene Texas hunting landranchesundeveloped landlot

187000

22+/- ac pvt rd tbd, abilene (tract 13)

Acres:

22 ±

County:

Jones

City/St:

Abilene, TX

22

1677088190

1645817410

0

Status:

New Listing

Price:

$187,000

24+/- Ac Pvt Rd TBD, Abilene (Tract 14) Jones TX Jones Abilene Texas hunting landranchesundeveloped landlot

184900

24+/- ac pvt rd tbd, abilene (tract 14)

Acres:

24 ±

County:

Jones

City/St:

Abilene, TX

24

1677088216

1635974938

0

Status:

New Listing

Price:

$184,900

26+/- Ac Pvt Rd TBD, Abilene (Tract 16) Jones TX Jones Abilene Texas hunting landranchesundeveloped landlot

199900

26+/- ac pvt rd tbd, abilene (tract 16)

Acres:

26 ±

County:

Jones

City/St:

Abilene, TX

26

1677088262

1635973349

0

Status:

New Listing

Price:

$199,900

27+/- Ac FM 600, Abilene (Tract 4) Jones TX Jones Abilene Texas hunting landranchesundeveloped landhorse propertylot

269900

27+/- ac fm 600, abilene (tract 4)

Acres:

27 ±

County:

Jones

City/St:

Abilene, TX

27

1676309355

1628534601

0

Status:

New Listing

Price:

$269,900

huntingland ranches undevelopedland horseproperty lot

Hunting LandRanchesUndeveloped LandHorse PropertyLot

30+/- Ac Pvt Rd TBD, Abilene (Tract 10) Jones TX Jones Abilene Texas hunting landranchesundeveloped landlot

255000

30+/- ac pvt rd tbd, abilene (tract 10)

Acres:

30 ±

County:

Jones

City/St:

Abilene, TX

30

1677088124

1635970918

0

Status:

New Listing

Price:

$255,000

32+/- Ac FM 600, Abilene (Tract 3) Jones TX Jones Abilene Texas hunting landranchesrecreational landlot

309900

32+/- ac fm 600, abilene (tract 3)

Acres:

32 ±

County:

Jones

City/St:

Abilene, TX

32

1675380557

1628625158

0

Status:

New Listing

Price:

$309,900

huntingland ranches recreationalland lot

Hunting LandRanchesRecreational LandLot

4.1 Ac (Tr11) CR 302, Abilene Jones TX Jones Abilene Texas undeveloped landlot

64500

4.1 ac (tr11) cr 302, abilene

Acres:

4.1 ±

County:

Jones

City/St:

Abilene, TX

4.1

1683657693

1683656545

0

Status:

New Listing

Price:

$64,500

undevelopedland lot

Undeveloped LandLot

4.2+/- Ac TBD FM 1226, Hawley Jones TX Jones Hawley Texas undeveloped land

49900

4.2+/- ac tbd fm 1226, hawley

Acres:

4.2 ±

County:

Jones

City/St:

Hawley, TX

4.2

1685031283

1683313708

0

Status:

Available

Price:

$49,900

4.31 Ac CR 150, Abilene (Tract 4) Shackelford TX Shackelford Abilene Texas undeveloped landlot

64500

4.31 ac cr 150, abilene (tract 4)

Acres:

4.31 ±

County:

Shackelford

City/St:

Abilene, TX

4.31

1680712103

1670359566

0

Status:

New Listing

Price:

$64,500

4.88 Ac CR 150, Abilene (Tract 7) Shackelford TX Shackelford Abilene Texas undeveloped landlot

67500

4.88 ac cr 150, abilene (tract 7)

Acres:

4.88 ±

County:

Shackelford

City/St:

Abilene, TX

4.88

1680712375

1670365314

0

Status:

New Listing

Price:

$67,500

4109 Hwy 83, Taylor Taylor TX Taylor Tuscola Texas undeveloped landcommercialbusiness opportunity

105000

4109 hwy 83, taylor

Acres:

0.64 ±

County:

Taylor

City/St:

Tuscola, TX

0.643

1682701344

1655910243

0

Status:

New Listing

Price:

$105,000

undevelopedland commercial businessopportunity

Undeveloped LandCommercialBusiness Opportunity

47+/- Ac Pvt Rd TBD, Abilene (Tract 11) Jones TX Jones Abilene Texas hunting landranchesundeveloped landlot

376000

47+/- ac pvt rd tbd, abilene (tract 11)

Acres:

47 ±

County:

Jones

City/St:

Abilene, TX

47

1675381354

1635977039

0

Status:

New Listing

Price:

$376,000

5.57 Ac CR 150, Abilene (Tract 9) Shackelford TX Shackelford Abilene Texas undeveloped landlot

90000

5.57 ac cr 150, abilene (tract 9)

Acres:

5.57 ±

County:

Shackelford

City/St:

Abilene, TX

5.57

1680712543

1670427339

0

Status:

New Listing

Price:

$90,000

5.58 Ac CR 150, Abilene (Tract 1) Shackelford TX Shackelford Abilene Texas undeveloped landlot

78000

5.58 ac cr 150, abilene (tract 1)

Acres:

5.58 ±

County:

Shackelford

City/St:

Abilene, TX

5.58

1680711850

1670348162

0

Status:

New Listing

Price:

$78,000

Acres:

0.12 ±

County:

Callahan

City/St:

Clyde, TX

0.115

1679435345

1676578795

0

Status:

New Listing

Price:

$399,900

6.2 Ac (Tr12) CR 302, Abilene Jones TX Jones Abilene Texas undeveloped landlot

84900

6.2 ac (tr12) cr 302, abilene

Acres:

6.2 ±

County:

Jones

City/St:

Abilene, TX

6.2

1683661482

1683658045

0

Status:

New Listing

Price:

$84,900

undevelopedland lot

Undeveloped LandLot

6.35 Ac CR 150, Abilene (Tract 10) Shackelford TX Shackelford Abilene Texas undeveloped landlot

87000

6.35 ac cr 150, abilene (tract 10)

Acres:

6.35 ±

County:

Shackelford

City/St:

Abilene, TX

6.35

1682452823

1670430051

0

Status:

New Listing

Price:

$87,000

7.5+/- Ac (South) CR 356, Jones Jones TX Jones Abilene Texas hunting landranchesundeveloped land

74900

7.5+/- ac (south) cr 356, jones

Acres:

7.5 ±

County:

Jones

City/St:

Abilene, TX

7.5

1675401778

1636040272

0

Status:

Available

Price:

$74,900

80+/- Ac (East) CR 306, Abilene Jones TX Jones Abilene Texas undeveloped land

445000

80+/- ac (east) cr 306, abilene

Acres:

80 ±

County:

Jones

City/St:

Abilene, TX

80

1678723828

1676574962

0

Status:

New Listing

Price:

$445,000

80+/- Ac (West) CR 306, Abilene Jones TX Jones Abilene Texas undeveloped land

445000

80+/- ac (west) cr 306, abilene

Acres:

80 ±

County:

Jones

City/St:

Abilene, TX

80

1678723800

1676574284

0

Status:

New Listing

Price:

$445,000

105.99 Acres & 2 Homes, Eastland County Eastland TX Eastland Ranger Texas farmshunting landranchesrecreational landresidential propertyhorse propertysingle family

582950

105.99 acres & 2 homes, eastland county

Acres:

105.99 ±

County:

Eastland

City/St:

Ranger, TX

105.99

1685757352

1683218111

0

Status:

Available

Price:

$582,950

farms huntingland ranches recreationalland residentialproperty horseproperty singlefamily

FarmsHunting LandRanchesRecreational LandResidential PropertyHorse PropertySingle Family

24.54+/- Acres, Eastland County Eastland TX Eastland Ranger Texas farmshunting landranchesrecreational landundeveloped land

196320

24.54+/- acres, eastland county

Acres:

24.54 ±

County:

Eastland

City/St:

Ranger, TX

24.54

1681937735

1669225316

0

Status:

Available

Price:

$196,320

farms huntingland ranches recreationalland undevelopedland

FarmsHunting LandRanchesRecreational LandUndeveloped Land

25 Acres, Eastland County Eastland TX Eastland Gorman Texas undeveloped land

232500

25 acres, eastland county

Acres:

25 ±

County:

Eastland

City/St:

Gorman, TX

25

1674747911

1659546032

0

Status:

Available

Price:

$232,500

5590 Hwy 180, Albany Shackelford TX Shackelford Albany Texas commercialbusiness opportunity

155000

5590 hwy 180, albany

Acres:

0.34 ±

County:

Shackelford

City/St:

Albany, TX

0.34

1683140420

1671488967

0

Status:

Available

Price:

$155,000

commercial businessopportunity

CommercialBusiness Opportunity

Lot 163, Baltrusol Dr, Graford Palo Pinto TX Palo Pinto Graford Texas recreational landundeveloped landlot

18950

lot 163, baltrusol dr, graford

Acres:

0.1 ±

County:

Palo Pinto

City/St:

Graford, TX

0.103

1676308782

1655935475

0

Status:

Available

Price:

$18,950

recreationalland undevelopedland lot

Recreational LandUndeveloped LandLot

11.5+/- Acres, Eastland County Eastland TX Eastland Rising Star Texas hunting landrecreational landundeveloped land

98900

11.5+/- acres, eastland county

Acres:

11.5 ±

County:

Eastland

City/St:

Rising Star, TX

11.5

1685124044

1685117728

0

Status:

Available

Price:

$98,900

11.958+/- Acres, Eastland County Eastland TX Eastland Rising Star Texas hunting landrecreational landundeveloped land

119580

11.958+/- acres, eastland county

Acres:

11.96 ±

County:

Eastland

City/St:

Rising Star, TX

11.958

1684788194

1684787620

0

Status:

Available

Price:

$119,580

116.4 Acres & Home, Eastland County Eastland TX Eastland Cisco Texas farmshunting landranchesrecreational landresidential propertysingle family

931200

116.4 acres & home, eastland county

Acres:

116.4 ±

County:

Eastland

City/St:

Cisco, TX

116.4

1685564960

1681335115

0

Status:

Available

Price:

$931,200

farms huntingland ranches recreationalland residentialproperty singlefamily

FarmsHunting LandRanchesRecreational LandResidential PropertySingle Family

12+/- Acres, Eastland County Eastland TX Eastland Rising Star Texas hunting landrecreational landundeveloped land

120000

12+/- acres, eastland county

Acres:

12 ±

County:

Eastland

City/St:

Rising Star, TX

12

1684791757

1684789369

0

Status:

Available

Price:

$120,000

23.958+/- Acres, Eastland County Eastland TX Eastland Rising Star Texas hunting landrecreational landundeveloped land

239580

23.958+/- acres, eastland county

Acres:

23.96 ±

County:

Eastland

City/St:

Rising Star, TX

23.958

1684792204

1684791499

0

Status:

Available

Price:

$239,580

0.378 Ac 311 S Anson St, Stamford Jones TX Jones Stamford Texas undeveloped landlot

5000

0.378 ac 311 s anson st, stamford

Acres:

0.38 ±

County:

Jones

City/St:

Stamford, TX

0.378

1683837907

1683837452

0

Status:

New Listing

Price:

$5,000

undevelopedland lot

Undeveloped LandLot

25+/- Ac CR 415, Cross Plains Brown TX Brown Cross Plains Texas farmshunting landranchesrecreational land

179000

25+/- ac cr 415, cross plains

Acres:

25 ±

County:

Brown

City/St:

Cross Plains, TX

25

1681753504

1673374341

0

Status:

New Listing

Price:

$179,000

farms huntingland ranches recreationalland

FarmsHunting LandRanchesRecreational Land

320 Ac & Hm 3402 CR 196, Blackwell Nolan TX Nolan Blackwell Texas hunting landranchesresidential propertysingle family

1250000

320 ac & hm 3402 cr 196, blackwell

Acres:

320 ±

County:

Nolan

City/St:

Blackwell, TX

320

1682693104

1676494757

0

Status:

New Listing

Price:

$1,250,000

huntingland ranches residentialproperty singlefamily

Hunting LandRanchesResidential PropertySingle Family

6.94 Acres & Home TBD CR 236, Eastland County Eastland TX Eastland Ranger Texas recreational landresidential propertysingle family

285000

6.94 acres & home tbd cr 236, eastland county

Acres:

6.94 ±

County:

Eastland

City/St:

Ranger, TX

6.94

1682452773

1682005649

0

Status:

Available

Price:

$285,000

recreationalland residentialproperty singlefamily

Recreational LandResidential PropertySingle Family

66.85 Ac CR 143, Jayton Kent TX Kent Jayton Texas hunting landundeveloped land

167500

66.85 ac cr 143, jayton

Acres:

66.85 ±

County:

Kent

City/St:

Jayton, TX

66.85

1683840724

1666985871

0

Status:

Available

Price:

$167,500

huntingland undevelopedland

Hunting LandUndeveloped Land

1.0 Ac TBD US 83, Tuscola (Tract 1) Taylor TX Taylor Tuscola Texas undeveloped landlotbusiness opportunity

141570

1.0 ac tbd us 83, tuscola (tract 1)

Acres:

1 ±

County:

Taylor

City/St:

Tuscola, TX

1

1679415465

1679412139

0

Status:

New Listing

Price:

$141,570

undevelopedland lot businessopportunity

Undeveloped LandLotBusiness Opportunity

1.0 Ac TBD US 83, Tuscola (Tract 4) Taylor TX Taylor Tuscola Texas undeveloped landlotbusiness opportunity

141570

1.0 ac tbd us 83, tuscola (tract 4)

Acres:

1 ±

County:

Taylor

City/St:

Tuscola, TX

1

1679948502

1679423136

0

Status:

New Listing

Price:

$141,570

undevelopedland lot businessopportunity

Undeveloped LandLotBusiness Opportunity

1.01 Ac TBD US 83, Tuscola (Tract 2) Taylor TX Taylor Tuscola Texas undeveloped landlotbusiness opportunity

142985

1.01 ac tbd us 83, tuscola (tract 2)

Acres:

1.01 ±

County:

Taylor

City/St:

Tuscola, TX

1.01

1679418936

1679416524

0

Status:

New Listing

Price:

$142,985

undevelopedland lot businessopportunity

Undeveloped LandLotBusiness Opportunity

1.01 Ac TBD US 83, Tuscola (Tract 3) Taylor TX Taylor Tuscola Texas undeveloped landlotbusiness opportunity

142985

1.01 ac tbd us 83, tuscola (tract 3)

Acres:

1.01 ±

County:

Taylor

City/St:

Tuscola, TX

1.01

1679418936

1679417630

0

Status:

New Listing

Price:

$142,985

undevelopedland lot businessopportunity

Undeveloped LandLotBusiness Opportunity

1.01 Ac TBD US 83, Tuscola (Tract 5) Taylor TX Taylor Tuscola Texas undeveloped landlotbusiness opportunity

141570

1.01 ac tbd us 83, tuscola (tract 5)

Acres:

1 ±

County:

Taylor

City/St:

Tuscola, TX

1

1679426349

1679424938

0

Status:

New Listing

Price:

$141,570

undevelopedland lot businessopportunity

Undeveloped LandLotBusiness Opportunity

1.03 Ac TBD US 83, Tuscola (Tract 6) Taylor TX Taylor Tuscola Texas undeveloped landlotbusiness opportunity

145817

1.03 ac tbd us 83, tuscola (tract 6)

Acres:

1.03 ±

County:

Taylor

City/St:

Tuscola, TX

1.03

1682452789

1679426168

0

Status:

New Listing

Price:

$145,817

undevelopedland lot businessopportunity

Undeveloped LandLotBusiness Opportunity

10+/- Ac CR 327, Gorman Eastland TX Eastland Gorman Texas hunting landrecreational landundeveloped land

85000

10+/- ac cr 327, gorman

Acres:

10 ±

County:

Eastland

City/St:

Gorman, TX

10

1684266216

1683141302

0

Status:

New Listing

Price:

$85,000

12+/- Ac CR 327, Gorman Eastland TX Eastland Gorman Texas hunting landrecreational landundeveloped land

99000

12+/- ac cr 327, gorman

Acres:

12 ±

County:

Eastland

City/St:

Gorman, TX

12

1683283258

1683214852

0

Status:

New Listing

Price:

$99,000

24+/- Ac CR 327, Gorman Eastland TX Eastland Gorman Texas hunting landrecreational landundeveloped land

200000

24+/- ac cr 327, gorman

Acres:

24 ±

County:

Eastland

City/St:

Gorman, TX

24

1684266216

1683217333

0

Status:

New Listing

Price:

$200,000

39+/- Ac CR 327, Gorman Eastland TX Eastland Gorman Texas hunting landrecreational landundeveloped land

270000

39+/- ac cr 327, gorman

Acres:

39 ±

County:

Eastland

City/St:

Gorman, TX

39

1684266216

1683225881

0

Status:

New Listing

Price:

$270,000

63+/- Ac CR 327, Gorman Eastland TX Eastland Gorman Texas hunting landrecreational landundeveloped land

425000

63+/- ac cr 327, gorman

Acres:

63 ±

County:

Eastland

City/St:

Gorman, TX

63

1684270207

1683230391

0

Status:

New Listing

Price:

$425,000

11.56 Ac TBD CR 228, Abilene (Tract 1) Callahan TX Callahan Abilene Texas hunting landranchesundeveloped land

168900

11.56 ac tbd cr 228, abilene (tract 1)

Acres:

11.56 ±

County:

Callahan

City/St:

Abilene, TX

11.56

1685569475

1682365043

0

Status:

Available

Price:

$168,900

11.56 Ac TBD CR 228, Abilene (Tract 2) Callahan TX Callahan Abilene Texas hunting landranchesundeveloped land

168900

11.56 ac tbd cr 228, abilene (tract 2)

Acres:

11.56 ±

County:

Callahan

City/St:

Abilene, TX

11.56

1685573107

1682365760

0

Status:

Available

Price:

$168,900

11.56 Ac TBD CR 228, Abilene (Tract 3) Callahan TX Callahan Abilene Texas hunting landranchesundeveloped land

168900

11.56 ac tbd cr 228, abilene (tract 3)

Acres:

11.56 ±

County:

Callahan

City/St:

Abilene, TX

11.56

1685573107

1682366781

0

Status:

Available

Price:

$168,900

15+/- Ac CR 339, Abilene (Tract 2) Jones TX Jones Abilene Texas hunting landrancheslot

159900

15+/- ac cr 339, abilene (tract 2)

Acres:

15 ±

County:

Jones

City/St:

Abilene, TX

15

1681155796

1666278994

0

Status:

New Listing

Price:

$159,900

huntingland ranches lot

Hunting LandRanchesLot

5.329 Ac & Hm 11127 CR 347, Hawley Jones TX Jones Hawley Texas hunting landresidential property

278900

5.329 ac & hm 11127 cr 347, hawley

Acres:

5.33 ±

County:

Jones

City/St:

Hawley, TX

5.329

1686160138

1685976146

0

Status:

New Listing

Price:

$278,900

huntingland residentialproperty

Hunting LandResidential Property