---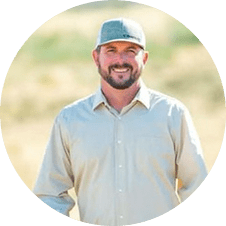 Joshua Smith
REALTOR
Joshua Smith provides caliber service and is committed to working hard and following through until the job is done. He aims to build relationships with clients and sustain those relationships through dedication and communication. His knowledge of land use is an asset to those who he serves and will help you in your real estate development and transactions.
Joshua has deep roots in farming & ranching as he was born and raised in the small farming community of Rule, TX. As a lifetime resident of Texas and the only son of a successful farmer, he understands the value and pride a person possesses when owning a piece of real estate. Looking for your perfect piece of Texas, or desire to have the best marketing to sell your property, Joshua has the knowledge, expertise and drive to serve your needs & get the job done!
He is the proud father of 2 children, a daughter and son and loves his beautiful wife Destiny. An avid fisherman and golfer, Joshua loves being outdoors and loves to stay busy!
Don't hesitate to give Josh a call anytime, whether you're selling or buying real estate 210-709-5678.
25+/- Ac CR 415, Cross Plains Brown TX Brown Cross Plains Texas farmshunting landranchesrecreational land

189000

25+/- ac cr 415, cross plains

Acres:

25 ±

County:

Brown

City/St:

Cross Plains, TX

25

1678720291

1673374341

0

Status:

New Listing

Price:

$189,000

farms huntingland ranches recreationalland

FarmsHunting LandRanchesRecreational Land

320 Ac & Hm 3402 CR 196, Blackwell Nolan TX Nolan Blackwell Texas hunting landranchesresidential propertysingle family

1250000

320 ac & hm 3402 cr 196, blackwell

Acres:

320 ±

County:

Nolan

City/St:

Blackwell, TX

320

1676570855

1676494757

0

Status:

New Listing

Price:

$1,250,000

huntingland ranches residentialproperty singlefamily

Hunting LandRanchesResidential PropertySingle Family