---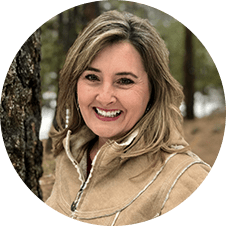 Karen Lenz
BROKER
Whether you are searching for hunting, recreational land, ranch land, or your future retirement place, Karen's goal is to find the place you are looking for! Being licensed in real estate since 1994, she has been specializing in land sales since 2002. It is her true passion to assist you in selling your land or helping you to find that perfect place in West Central Texas.
Serving 22 counties, there are a variety of ranch & hunting properties available. If you desire river frontage, thick cover with strong elevation changes, irrigated ranch land, rolling hills with fishing ponds, or even a high fenced trophy deer breeding facility…whatever you are looking for, she has the knowledge and experience to assist you in your search. Growing up around race horses, barrel racing and later assisting her dad with deer breeding, Karen has personal experiences to understand your desires and needs.
Karen's ultimate goal in serving you as your Broker/Realtor is to listen, putting your needs and desires first. She will work hard to get your property sold for the best price possible in the current market and/or find the perfect piece of property you desire to purchase.
Even in very volatile economic conditions, real estate continues to be a sound investment. Karen specializes in ranch & hunting land, ranchettes, and investment real estate; and will professionally and knowledgeably assist you in local residential real estate.
Through this website you have the opportunity to work with an outstanding broker/realtor who will use her abundant energy, tireless work ethic, and professionalism to provide you with World Class Service for Your Piece of Earth!
Contact Karen today for your real estate needs!
161+/- Acres, Brown County Brown TX Brown Rising Star Texas hunting landrecreational land

853300

161+/- acres, brown county

Acres:

161 ±

County:

Brown

City/St:

Rising Star, TX

161

1680624695

1670343244

0

Status:

Available

Price:

$853,300

huntingland recreationalland

Hunting LandRecreational Land

200 E College St, Rising Star Eastland TX Eastland Rising Star Texas commercial

240000

200 e college st, rising star

Acres:

0.74 ±

County:

Eastland

City/St:

Rising Star, TX

0.744

1683139408

1672862361

0

Status:

Available

Price:

$240,000

Acres:

225 ±

County:

Comanche

City/St:

May, TX

225

1684260725

1660853189

0

Status:

Available

Price:

$1,170,000

29 Acres, Callahan County Callahan TX Callahan Cross Plains Texas hunting landranchesrecreational land

156600

29 acres, callahan county

Acres:

29 ±

County:

Callahan

City/St:

Cross Plains, TX

29

1683847576

1666296426

0

Status:

Available

Price:

$156,600

huntingland ranches recreationalland

Hunting LandRanchesRecreational Land

30+/- Acres, Callahan County Callahan TX Callahan Cross Plains Texas hunting landrecreational land

177000

30+/- acres, callahan county

Acres:

30 ±

County:

Callahan

City/St:

Cross Plains, TX

30

1683847595

1666295904

0

Status:

Available

Price:

$177,000

huntingland recreationalland

Hunting LandRecreational Land

306 Conrad Hilton Blvd, Cisco Eastland TX Eastland Cisco Texas residential propertycommercialsingle familybusiness opportunity

288000

306 conrad hilton blvd, cisco

Acres:

0.07 ±

County:

Eastland

City/St:

Cisco, TX

0.072

1677877804

1666120990

0

Status:

Available

Price:

$288,000

residentialproperty commercial singlefamily businessopportunity

Residential PropertyCommercialSingle FamilyBusiness Opportunity

37+/- Acres, Brown County Brown TX Brown Rising Star Texas hunting landrecreational landundeveloped land

221815

37+/- acres, brown county

Acres:

37 ±

County:

Brown

City/St:

Rising Star, TX

37

1680727316

1680725361

0

Status:

Available

Price:

$221,815

40+/- Acres, Brown County Brown TX Brown Rising Star Texas hunting landrecreational landundeveloped land

239800

40+/- acres, brown county

Acres:

40 ±

County:

Brown

City/St:

Rising Star, TX

40

1680727316

1680725879

0

Status:

Available

Price:

$239,800

43.366 Ac & Hm 338 FM 1713, Whitney Hill TX Hill Whitney Texas hunting landranchessingle family

749500

43.366 ac & hm 338 fm 1713, whitney

Acres:

43.37 ±

County:

Hill

City/St:

Whitney, TX

43.366

1683752779

1671568936

0

Status:

New Listing

Price:

$749,500

huntingland ranches singlefamily

Hunting LandRanchesSingle Family

53.28+/- Ac & Hm, Jones County Jones TX Jones Merkel Texas hunting landrecreational landundeveloped landhorse property

525000

53.28+/- ac & hm, jones county

Acres:

53.28 ±

County:

Jones

City/St:

Merkel, TX

53.28

1684260770

1683298996

0

Status:

Available

Price:

$525,000

huntingland recreationalland undevelopedland horseproperty

Hunting LandRecreational LandUndeveloped LandHorse Property

5321 Big Bend Drive Tarrant TX Tarrant Fort Worth Texas residential property

439900

5321 big bend drive

Acres:

0.17 ±

County:

Tarrant

City/St:

Fort Worth, TX

0.173

1685130303

1685129938

0

Status:

Available

Price:

$439,900

residentialproperty

Residential Property

59+/- Acres, Callahan County Callahan TX Callahan Cross Plains Texas hunting landrecreational landundeveloped landhorse property

294705

59+/- acres, callahan county

Acres:

59 ±

County:

Callahan

City/St:

Cross Plains, TX

59

1683304712

1678385523

0

Status:

Available

Price:

$294,705

huntingland recreationalland undevelopedland horseproperty

Hunting LandRecreational LandUndeveloped LandHorse Property

70+/- Acres, Eastland County Eastland TX Eastland Cisco Texas hunting landrecreational landundeveloped landhorse property

437500

70+/- acres, eastland county

Acres:

70 ±

County:

Eastland

City/St:

Cisco, TX

70

1683306430

1668029053

0

Status:

Available

Price:

$437,500

huntingland recreationalland undevelopedland horseproperty

Hunting LandRecreational LandUndeveloped LandHorse Property

77+/- Acres, Brown County Brown TX Brown Rising Star Texas hunting landrecreational landundeveloped land

446600

77+/- acres, brown county

Acres:

77 ±

County:

Brown

City/St:

Rising Star, TX

77

1680630695

1669669792

0

Status:

Available

Price:

$446,600